Units are prewired for cable television and high speed internet access.
Ground Floor units have private patios with installed hot tub and pergola.
Second Floor units are plumbed and wired for hot tub installation.
Third Floor units have their own penthouse terrace with pergola, and are plumbed and wired ready for hot tub installation.
Rental Program available.
Property transfer tax exempted.
Visitor parking spaces.
Full on-site maintenance.
24 hour security with CCTV.
The Finest Finish for Every Detail
Spacious entrance halls and foyers made of Dominican Coral Stone.
Interior floors in imported Porcelain combined with Marble.
Oak interior doors.
European crafted kitchen cabinetry, with Italian granite countertops and backsplashes.
State of the art stainless steel appliances including side-by-side refrigerators, built-in ovens, touch-controlled cooktops, extractor hoods, and double sinks.
Marble paneled walls and floor in the Master Bathroom.
Marble countertop and European tiles in the Guest Bathroom.
Elegant plumbing fixtures by Kohler and/or similarly renowned designer.
Bathroom vanities with ample storage space.
Laundry room with high quality Stackable Washer and Dryer.
High efficiency air conditioning system in all areas.
Large private terrace offering spectacular beach views.
Blue Beach Punta Cana features first class resort-style amenities including:
Fully equipped fitness suite and Yoga deck with Zen garden.
Tropical lagoon-style swimming pool with poolside food and beverage services.
Family-friendly facilities, including water slides and playground.
Landscaped beach front gardens.
Private beach club, including chaise lounges and umbrellas.
Beachfront Restaurant, Bar & Grill.
Luxurious lobby areas with reception, concierge and valet services.
High speed internet and Wi-Fi in all common areas.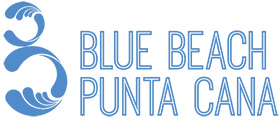 There are many beaches in the Dominican Republic, but there is only one Blue Beach in Punta Cana. Situated in the most sought-after location in the Dominican Republic, on the beautiful shores of Punta Cana, Blue Beach Punta Cana invites you to spoil yourself on one of the most spectacular beaches of the world, Cabeza de Toro.
Blue Beach Punta Cana is a low density, ¨club style¨ development of only 12 three story buildings spread across 6 acres with 393 lineal feet of private access to Cabeza de Toro Beach.
Cabeza de Toro beach in Punta Cana is an area of unmatched natural beauty in the eastern coast of the Dominican Republic. A long stretch of white sands present endless opportunities to enjoy warm ocean water, laze under the palms, dine al fresco at seaside restaurants, or indulge in the beauty of an enchanting sunset.
How to get here
Located at the beachfront, only 15 minutes from Punta Cana International Airport, Blue Beach Punta Cana is a residential development where luxury and sophistication meet on the beautiful white sands and crystaline waters of the Caribbean Sea.
393 lineal feet of beach front
Placed upon 393 feet of beachfront and 6 acres of beautifully landscaped gardens lies BLUE BEACH PUNTA CANA. This low-density development blends the freewheeling spirit of a seaside retreat with the amenities and services of a luxury resort where you can relax and recharge positive energy while experiencing authentic comfort living.
This high end condominium has been designed with fine finishes and a great attention to detail so residents can enjoy TOTAL BEACHSIDE LUXURY in one of the most beautiful beaches of the world.
Architecture that is world class standard but locally sympathetic
The architectural design of Blue Beach Punta Cana is the creation of the renowned Dominican architect Daniel Pons, whose designs are characterized by the use of simple forms, all in balance with the unique local landscape.
His designs honor the natural environment and integrate the luxurious interior with the development´s lush landscaping, pristine white sands, and crystal clear turquoise waters of the Cabeza de Toro beach. Moreover, Blue Beach Punta Cana provides a modern eco-tourist environment that allows near-perfect combination with nature.
Blue Beach Punta Cana offers 108 condominiums, distributed among 12 buildings which surround a stunning pool and sun deck. Each building of only three levels, houses a variety of two and three bedroom condos with spacious social areas and terraces overlooking the beach.
Interiors are created from the finest materials, and come with high quality appliances to provide you with an abundance of comfort.
Outstanding communal areas and open spaces are situated throughout the development, creating a seamless fit with the surrounding tropical paradise. They are perfect for sitting back and relaxing either with your family, neighbors or in blissful peace.
Important
Law 158-01 de CONFOTUR, consists of various tax benefits, including the exemption from the "Register Tax" of 3% and other exemptions on annual fees.
Tre camere da letto

Fronte spiaggia

2 bagni

Terrazzo

Cucina con elettrodomestici in acciaio inossidabile

Zona lavanderia con lavatrice-asciugatriceSoggiorno-pranzo


Terrazza coperta

Giardino privato

Zona con vasca idromassaggio